Oogst [Dutch : gather]
Royal College of Art, Proximities Project, Kortrijk, Belgium, Fall 2019

Artist's Residence

We become a tourist and a visitor when we travel to another city or country, where it is not familiar to us. And we find numerous experiences from or in the city we visit However, it is rare to fully get to know about the place of your visit.

It is difficult to have an intimate conversation with the local people or be involved in the society even though the place may be very fascinating that satisfies your intellectual curiosity.

Overleiestraat N.64 is going to be a place with a blurre boundary between the local and tourist/ visitor tha encourages both local and foreigner to interact with people from various backgrounds.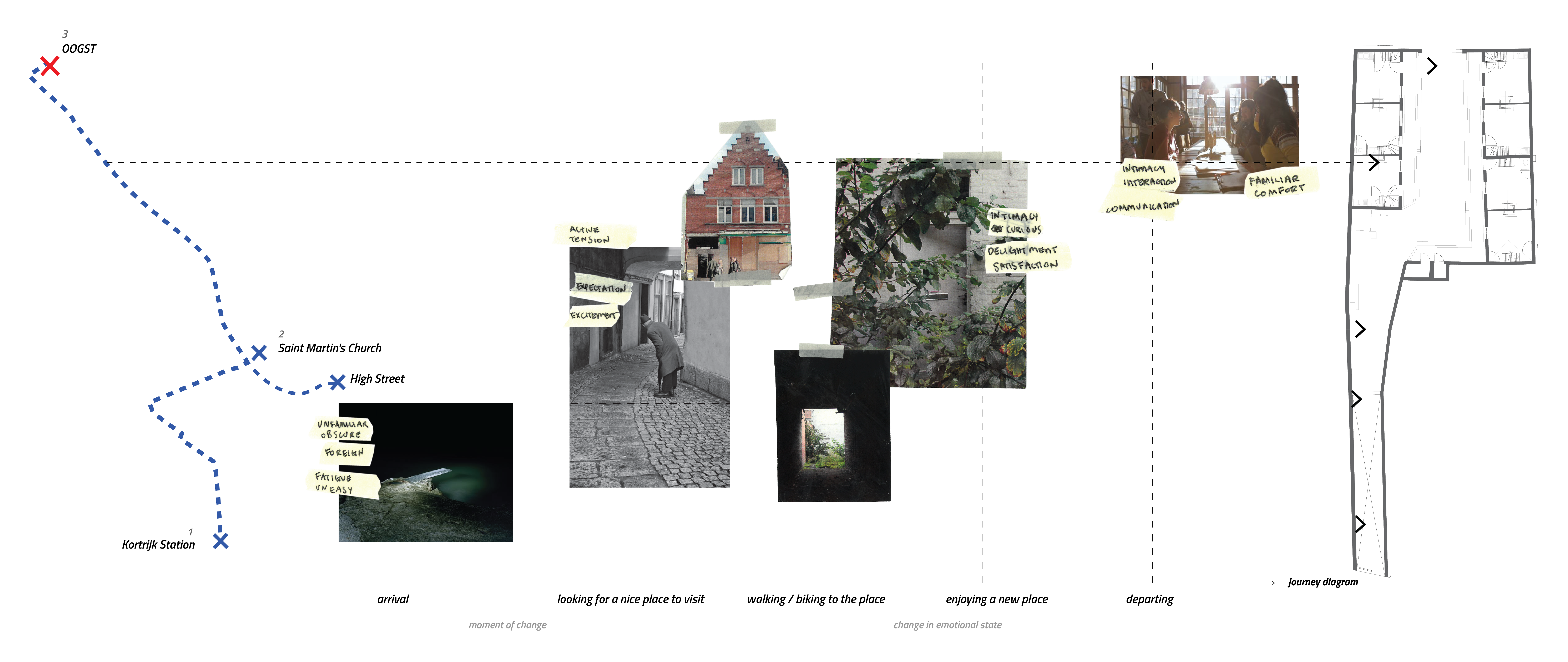 Starting with the idea with exploring the how emotions begin to relate as the journey begins.

At the arrival of the journey, one begins to feel obscure, unfamiliar, uneasy. Which here in my diagram will happen in Kortrijk site on a city map, which then the idea is brought into the threshold of the site. Then when one starts to look for nice place to visit and begin to walk/ bike to their destination, then there's moment of excitement, activeness, and tension until you finally arrive at the place.
In the new place you visit to, the program of the site where it will welcome you with greetings and exhibitions to enjoy, workshops that you can attend to will allow you with intimate interactions and emotions where curiosity and delighting satisfaction steps in.

Then one will leave with comfort and satisfaction to their own town, city or country.
Program diagram of the Oogst
Image from 1979 Amsterdamse Poortje, Social Housing
Proposing new roof structure
1 Kortrijk Station

Short Stay (Day - Week - Months)
place to experience the exposed living space at the train station (1-2 people)

Administration Office
informatio center / admin office for people to pick up or drop off house keys and get information regarding to the program and events.

2 Saint Martin's Church Tower Square

Short Stay (Day - Week - Months)
place to experience the exposed living space at the high street (1-2 people)

Residence for Makers and Designers (Local)
place to experience the exposed living space at the high street (1-2 people)

Shared Kitchen / Work Space / Event Area

3 Oogst

Short Stay (Day - Week - Months)
place to experience the exposed living space at Oogst (1 people, 3 cubes)

Residence for Makers and Designers
place to experience the exposed living space at Oogst (1 people, 4 cubes)

Open Exhibition Area/ Kitchen / Work Space / Event Area